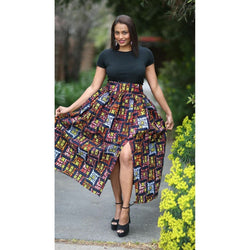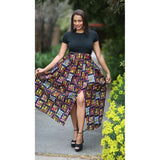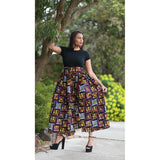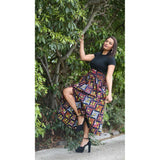 Product Description
Taida Skirt
The Taida Skirt is a stunning and elegant African inspired skirt that is sure to turn heads. This beautiful skirt features a unique design with a slit, adding a touch of sophistication and style to your outfit. Whether you're attending a special occasion or simply want to add a fashionable piece to your wardrobe, the Taida Skirt is the perfect choice.
Features:
Made from high-quality materials for durability and comfort
African inspired design adds a unique and stylish touch
Slit detail enhances the skirt's elegance and allows for ease of movement
Available in black and gray, versatile colors that can be easily paired with different tops and accessories
Available in various sizes to ensure the perfect fit
Style Tips:
The Taida Skirt can be dressed up or down depending on the occasion. Here are some style tips to help you create different looks:
For a chic and sophisticated look, pair the skirt with a fitted blouse and heels.
For a more casual and laid-back outfit, style the skirt with a simple t-shirt and sandals.
Add some statement jewelry and a clutch to elevate the skirt for a night out or a special event.
Experiment with different tops, such as crop tops or off-the-shoulder blouses, to create different looks.
With its elegant design and versatile style, the Taida Skirt is a must-have addition to any fashion-forward wardrobe. Make a statement and showcase your unique style with this beautiful African inspired skirt.